General introduction to magnetic separator
Different ores have different magnetic coefficients. Magnetic separator is just the machine that uses magnetic and mechanical power to separate the ores from mixers. According to the working way, magnetic separator is classified into dry magnetic separator and wet magnetic separator.
Working site of magnetic separator
Except for separating the ores with size smaller than 3mm like magnetite, pyrrhotite, calcined ore, ilmenite, magnetic drum separator is also capable in the dedusting work for coal, non-metallic ores and building materials.
Fote magnetic separator enjoys the features of simple structure, strong working capacity, easy operation and convenient maintenance, etc.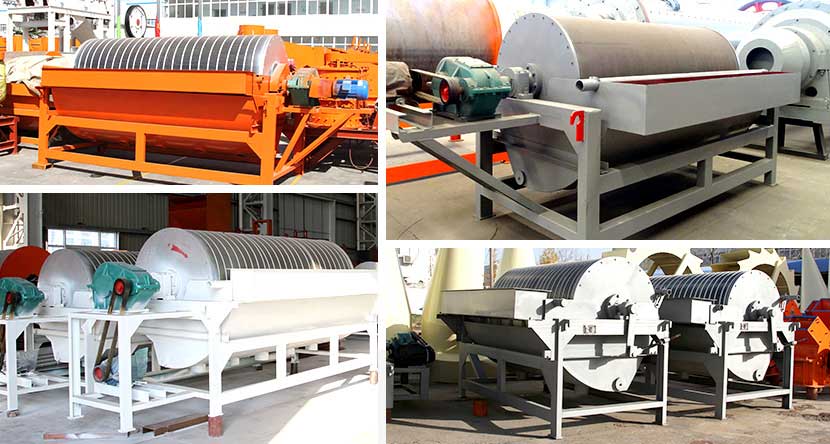 Application ranges of magnetic separator
1. Coarsely separating the primarily or secondarily-crushed lean iron ores and improving their grades
2. Purifying the fine clay like Kaolin and bauxite by removing the Fe2O3\TiO2
3. Decreasing the Fe2O3 content in quartz sand, feldspar and barite
4. Lowering the copper content in molybdenum concentrate
5. Dedusting and desulfurizing the coal
6. Improving the grade of apatite
7. Concentrating the rare-earth, sea beach placer and other useful ores
8. Deironing the coal, foundry sand, refractory material and ceramics
Usage of magnetic drum separator
There are many kinds of materials suitable for , iron ore magnetic separator, like magnetite, limonite, hematite, barringerite, ilmenite, wolframite, manganese ore, manganese carbonate ore, metallurgical manganese ore, oxidate manganese ore, kaolin and rare-earth, etc. The magnetic drum separator has its own magnetic field and minerals are separated inside by magnetic and mechanical power. Different ores have different magnetism and motion tracks, so we can get several kinds of ores just by using one magnetic separator.