General Introduction
Roller crusher is used for coarse crushing or tertiary crushing. Smooth roll crusher is widely used for industries of ore separating, chemical engineering, cement, refractory material, grinding material and building material, etc. Compared with other crushers, double roller crusher is more excellent in industries of refractory material and mining. In recent years, the roller crusher is widely used for crushing steel grits.
Fote Roller Crushers For Shipping
Superior Advantages Of Double Roller Crusher
1: Mature making technology, stable performance, little noise pollution
2: Finished products: cubic shape, low acicular content, no crackings inside, fine size
3: Suitable to crush high-hardness materials, little wear and long service life
4: Small cost and fast capital return
Toothed Roll Crusher
Toothed roll crusher is more suitable to crush raw coal and coal gangue in large-sized coal mines or coal separating plants. Teeth roll crusher or double toothed roll crusher enjoys the features of small volume, large crushing ratio, low noise, simple structure, easy maintenance, high working efficiency, even product size and flexible overload protection.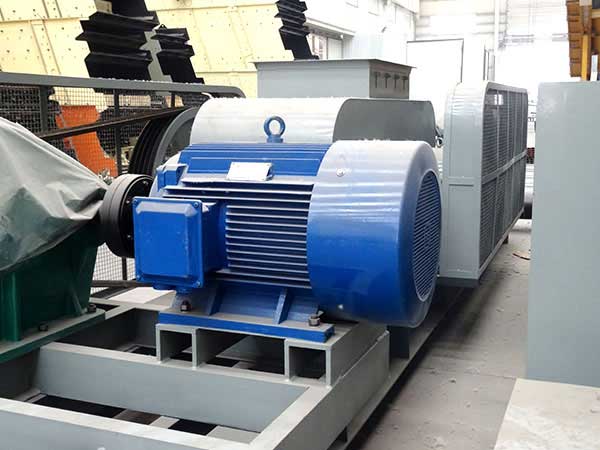 Large roll crusher
Features Of Fote Toothed Roll Crusher
High automation: Hydraulic protector, which is installed in roller crusher, can effectively protect the tooth rollers from being damaged by iron or wood. Besides, there is an automatic clearing device inside, which can automatically remove the adhering materials on wall during the rest period.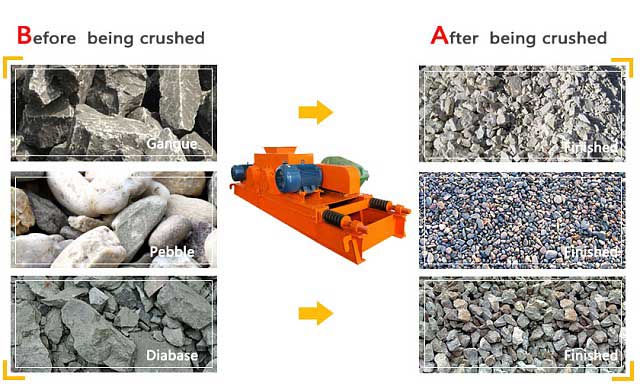 Stone before being crushed and after being crushed by roll crusher
Wide application ranges: Being high-efficient, energy-conserving and environmental-friendly, roller crusher is becoming the first choice for thermal power plants. It is suitable to crush brittle materials like soft coal, lignite, coal gangue, sinter, coke, slag, shale and limestone, etc.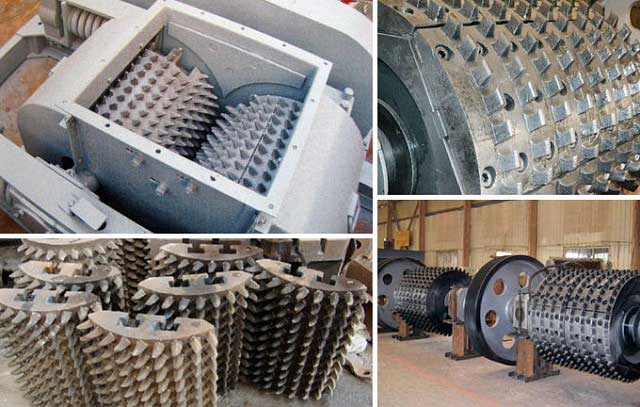 Installation of Fote roller crusher
Large crushing ratio, energy-conserving and environmental-friendly: smooth roller crusher is more excellent in aspects like large crushing ratio, no demand toward water content in raw material, low noise and vibration, small dust, low energy consumption, small floor space and convenient maintenance.
Long service life: Since fote equips the toothed roll crusher with many mechanical and hydraulic protectors and lockers, the whole system can be effectively protected.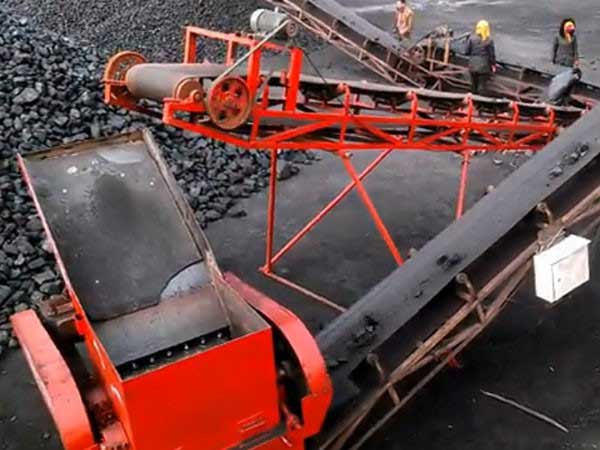 Fote roller crushers have perfect performance in coal crushing, so you can also call it coal crusher.